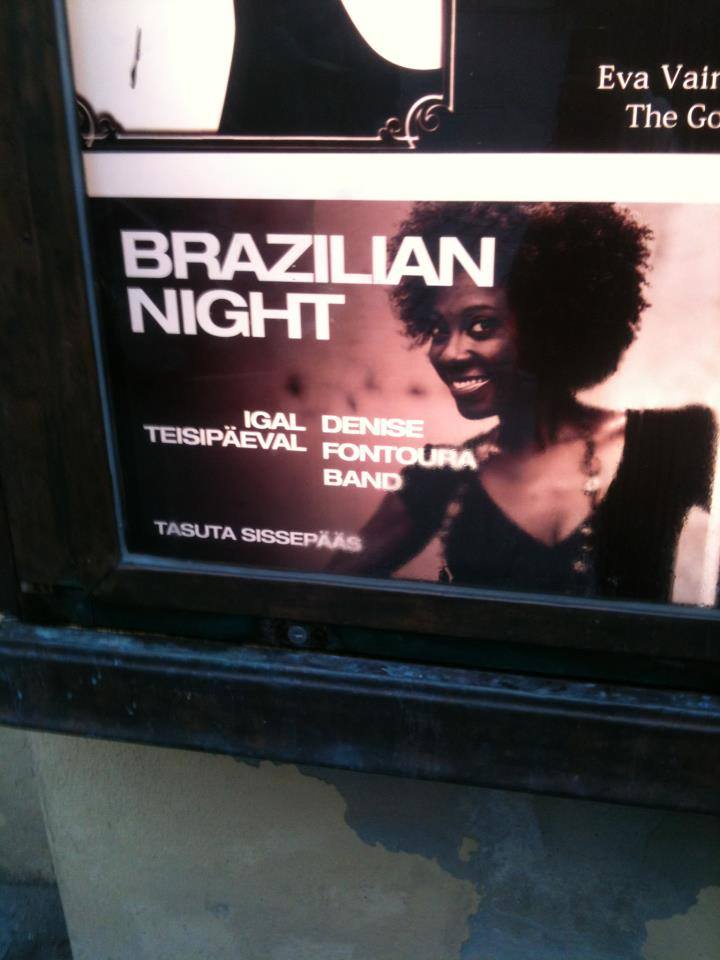 Singer and lyricist Denise gave her
first steps in music through the group
hip hop female Anastácias (RS), which
in 2003 won the hip hop award Hutuz
with the music "Mulheres Heroínas"
which reports the struggle of black
women in Brazilian society.
In 2004, the group moved from Porto
Alegre to Rio de Janeiro, where Denise
then had the opportunity to expand
her musical palette singing in bands
ranging from traditional to modern
genre – from latin music with
SongoroCosongo to trip-hop with Zerodois, backing vocalist at the funk and
samba-soul band Supergroove and as well as member of the project and show
Geração Hip Hop, by SESC Tijuca.
In the summer of 2008, Denise travels to Eastern Europe to sing, invited by
guitarist and musical partner Jei Virunurm.
For 5 uninterrupted years as the vocalist of Nzuzu Band, Denise was the voice of
the Brazilian Nights, a weekly concert at the legendary jazz club Clazz, in one of
the most popular nights in town. Joining this way, a mix of international
musicians bringing the genuine Brazilian flavor to the local music scene.
In 8 years Denise Fontoura sang in several festivals and performed in Estonia,
Latvia, Lithuania, Sweden, Poland, Montenegro and Italy.
She performed as soloist with different musical projects such as Vilnius
Jazz Orchestra, the Politsei Orkester in the first concert that celebrated Estonia's
96th years of independence performed solely by migrant musicians and in 2014
along with Koit Toome, Kristel Pärtna and singers from Latvia, she was one of
the soloists in Bernstein's Mass (Birgitta Festival) in a collaboration between the
two countries that involved more than 200 musicians.
Denise also has done Portuguese version for the songs Estonian
singer-songwriter Susanna Veldi and for the Japanese guitarist Ryo Kawasaki.
Denise has put together a few other projects, like Obi Trio, with a more
sophisticated repertoire that explores the jazzy aspects of Brazilian music as
well as the traditional side, going from bossa nova to choro music.
In the summer of 2016, Denise performed her first show as an author at the
Brazilian Day Stockholm event, organized by Brazilian embassy in the country. A
significant concert and that in partnership with the musician Rafael Oliveira,
resulted in the recording of her first EP which is still being developed. Thus
inaugurating a new stage in his artistic career.